We are committing regulary to the sport and social matters aside and are happy to get things moving together.
Our spirit animal is the donkey, as probably easy to catch. But not every Donkeys was as lucky as us so far.
Von 2019 bis 2023 haben wir die Patenschaft für "Diego" übernommen. Er befand sich auf einem Gnadenhof am Bodensee From 2019 up to 2023 we took over the sponsorship for "Diego". He was living in an animal sanctuary of "Esel in Not e.V." near the Bodensee and became a proud 30 years old until he died.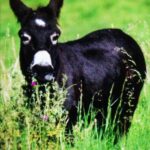 The Donkeys are committed to making the sport better known. Projects that bring non-sports enthusiasts closer to softball are always being supported. For example, the health insurance association was a guest on one day of action, as were elementary schools and high schools in Berlin on two sports days.
We also offer pick-up days, where even beginners have the opportunity to make contacts in the community and get to know teams and players from different leagues.
Since the team was founded, we have held a big tournament almost every summer, where the catering profit goes to a good cause. We would like to thank all participants, with whose generosity such actions are only possible, and the sponsors, who provide us with a lot of food and drink.
Supported projects
Esel in Not e.V.
Helden für Herzen e.V.
Straßenkinder e.V.